Sharon Osbourne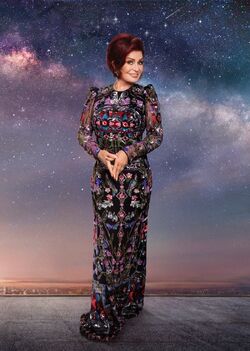 Birth Name
Sharon Rachel Arden
Occupation
Actress, author, businesswoman, music manager, promoter, talk show host, television personality, television talent competition judge
Born
9 October 1952
Brixton, London, UK
Sharon Rachel Osbourne (née Arden; born 9 October 1952) is an English music manager and promoter, television personality and presenter.
She came into public prominence after appearing in The Osbournes, a reality television show that followed her family's daily life. Osbourne later became a judge on the talent shows The X Factor and America's Got Talent. Her autobiography, Extreme, has sold in excess of two million copies.
After the success of The Osbournes, hosting her own chat shows and securing advertising contracts, Osbourne was ranked as the 60th richest woman in Britain on the 2007 Sunday Times Rich List. Sharon and husband, Ozzy Osbourne, are currently ranked as the 724th richest people in Britain with an estimated joint wealth of £110 million. Sharon Osbourne previously revived Ozzy's metal career and she stands as the founder of Ozzfest.
Osbourne is currently a co-host on the popular CBS show The Talk.  She remained on The X Factor UK for the first four years and was replaced by Cheryl for the 2008 series, with the reason for her departure eventually confirmed as being due to her dislike of judge Dannii Minogue, who joined the judging panel in 2007.
She also returned to The X Factor UK for Series 9 as a guest advisor to judge Louis Walsh, who mentored the Groups category. She announced on May 22, 2013 on The Talk that she would be returning as a judge on The X Factor UK. For Series 10, she mentored the over 25s catagory, which featured the winner, Sam Bailey, giving her her first-ever win as a mentor.
As of 2017, she has been a mentor on seven series, only once not having an act plce in the Top 3 when Alisha Bennett finished in 7th place during Series 4 in 2007.
In October 2017, Louis confirmed he would be returning for Series 15, which is set to air in 2018. He also confirmed that Sharon would be returning, marking her eighth series as a judge. However, it was confirmed in Summer 2018 that Louis would not be returning.
In a shake up to the show for Series 15 it was reported that she would only be present for the live shows as an impartial judge, marking the first time that there would be five judges present at this stage of the competition.  However, on September 29, it was announced that she will no longer be taking part in the show.
Judges Rank